Basically, all you'll own is the steering wheel by using Jaguar's Future-Type Concept.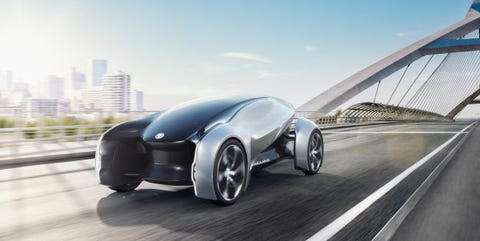 Operating the Future-Type concept is done via a removable, voice-activated steering wheel that has artificial intelligence. Dubbed Sayer (after Malcolm Sayer, designer of the E-type), the AI steering wheel serves as the key to the Future-Type. Consumers simply looking for a ride-sharing service need only purchase the Sayer steering wheel and not the Future-Type car itself. Ownership of the steering wheel opens up consumers to the world of Jaguar's ride-sharing program, as Sayer will be able to call up a fully charged Future-Type to pick up users at a moment's notice. Alternatively, Jaguar notes that privately-owned Future-Types will be able to moonlight in the Sayer ride-sharing industry.
Regardless, Jaguar states that all Future-Types, whether privately owned or used for ride-sharing duties, will offer seating for three. The seats can be arranged in a number of ways, which includes letting passengers sit face-to-face. Should a passenger want to take control of the vehicle, the Future-Type allows a driver to grab the Sayer wheel and serve as captain of the ship. Nevertheless, Jaguar foresees the Future-Type's various autonomous functions continuing to play a role in this mode in order to limit potential accidents.
While Jaguar isn't releasing specifications for the Future-Type, the brand calls it compact and notes that it possesses a narrow width. Combined with its long wheelbase, the Future-Type promises a small footprint to ease urban driving but also a sizable cabin that ensures passenger comfort.
Whether the Future-Type will ever see the light of day is doubtful. However, we suspect the concept's innovative ideas, such as the ability to purchase the car as a whole or to simply shell out money for a proverbial key to access the car for ride-sharing purposes (in this case the Sayer steering wheel), could well be applied to future Jaguar models. Frankly, though, we're just hoping that cars will still come with a steering wheel in the year 2040.