Windows 10's File History is an easy way to get started with backing up your personal files.
The feature takes snapshots of versions of your files and stores them on an external hard drive. Over time, you build up a library of past versions that you can recover if need be. Say, for example, you really liked a sentence from the first version of a document, but you deleted it long ago and are now battling with regret. You can dip into File History, retrieve the right version of your document, and copy the sentence.
In Windows 10, you can still get at File History from the Control Panel, but there's also an easier way via the Settings app. To access this version, open the Settings app and go to Update & Security > Backup.
Once you're there, hook up your external hard drive to Windows and then in the Settings app click the "+" next to Add a drive. You'll see a prompt to choose an external drive, choose the one you want, and that's it. File History is now archiving your data. An on/off slider will now appear under a new heading called "Automatically back up my files."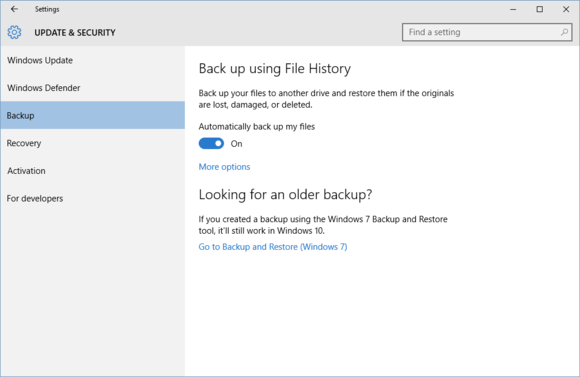 By default, Windows 10's File History will back up all the folders in your User folder. To add other folders to File History, or to remove some, click on More options under the on/off slider and scroll down to "Back up these folders."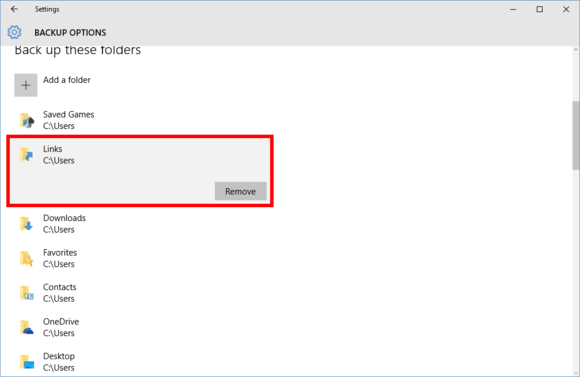 From here, you can add a folder by clicking the "+" at the top of the list. To remove a folder scroll down to find it, click on it to highlight, and then click the Remove button.
Below that list you can also create a list of folders to specifically exclude, or stop backing up to the currently selected drive and choose another one. You can also select how often File History backs up your files—the default is every hour—and how long Windows stores your revisions.
Once File History is enabled, a neat new trick to access older versions of a file is to right-click on it in File Explorer, and then select Properties. In the new window that opens, select the Previous Versions tab for quick access to archival versions of your file.