please Read to the end first. As Google telling in the is documentary pages about how to install Google Translate on your mobile, You can translate text, handwriting, photos and speech in over a hundred languages with the Google Translate app, or you can use Translate on the web. All in three easy steps:
1- Download
2- Setup
3- Enjoy
1- Download
Now let's start the fun by clicking below. It well take you to Google App store and directly to Google Translate.
But first you have to make sure that your mobile device meets the needed requirements as it must be at least:
Dual-core with the version 7 of ARM
Auto Focus Camera
2- Setup
Google Translate well ask for your primary language to make the languages menu for you. and to pick from the available languages just tab the arrow down  

To download both languages for offline use, leave "Translate offline" checked. If either language isn't available for download, it will say "Not available offline."
Note: By default, you need to be connected to a Wi-Fi network to download a language.
3- Enjoy
Now let's start by capturing any word with your mobile camera and to do that just look at the below image: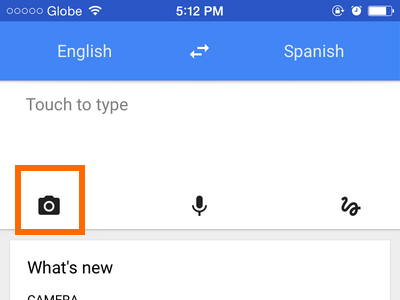 Also you can use Google translate website directly from the below link:
You can use Google translate offline from the setting as below: